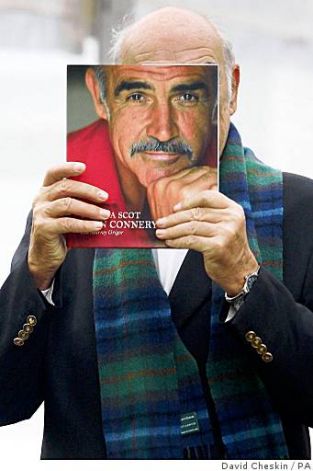 I nearly dropped my Corn Flakes when I heard about Sean Connery sleevefacing with his own book this week – in coverage of the Edinburgh Book Festival.
As you know, the guy has class. Another Sleeveface sighting and perhaps the best yet.
If you look at the cover of the book, Being A Scot, you'll see his right hand on the chin (in the classic Changes Bowie style). You know, he could have done just a bit more work and got his hand behind – to line it up for the shot. Just saying.
Nice work though! It is believed to be the FIRST known instance of a former James Bond actor sleevefacing with his own newly published memoirs at a book festival.
* Alternative titles for this post… Sleevefinger… On Her Majesty's Sleeveface Service (not a Connery one, but still)… Robin Hood Prince Of Sleeves (Connery played the king, remember)… Another Sleeve, Another Face…