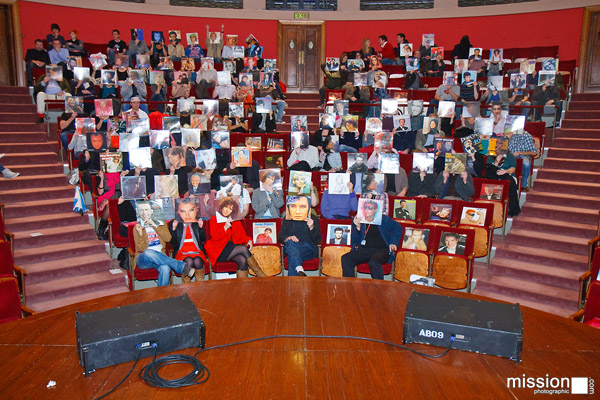 In Cardiff people are excitedly gearing up for Sŵn Festival 2008, quite frankly the biggest inner city, multi-venue jamboree of bands and culture since — last year's Sŵn Festival.
Tonight at the opening ceremony, held at the National Museum of Wales, we did a mass Sleeveface. Probably the biggest yet so cheers to everyone that took part, it was phenomenal! Here's a big res version of the mass Sleeveface pic. There are actually people to the left and right of this photo out of shot – here's a panoramic image made from the photos stuck together.
If you're around for Sŵn Festival, there are two great Sleeveface things happening. As well as the free photo exhibition in G39 open during the day, there is a free Sleeveface workshop in the Museum itself on Sunday between 11AM and 4PM. Come, say hello, borrow some sleeves and try out Sleevefacing with a pro photographer. Bring a friend! Obscure or augment his or her face!
The mighty Truckers Of Husk are among the bands playing on Saturday at Kaz Bar – you might know their intricate riffology from the How To Sleeveface video.
The full list of bands and events is at swnfest.com but it includes Rob Da Bank, Euros Childs, Young Marble Giants, Richard James, Silent Disco, Clinic, Scrabble Swnday, Future Of The Left, Cate Le Bon, Indian Jewelry, Aiden Smith, Martin Carr and imperial tonnes of other terrific stuff. Phew!
Photo credit: Mei Lewis at Mission Photographic (professional photography services for you)