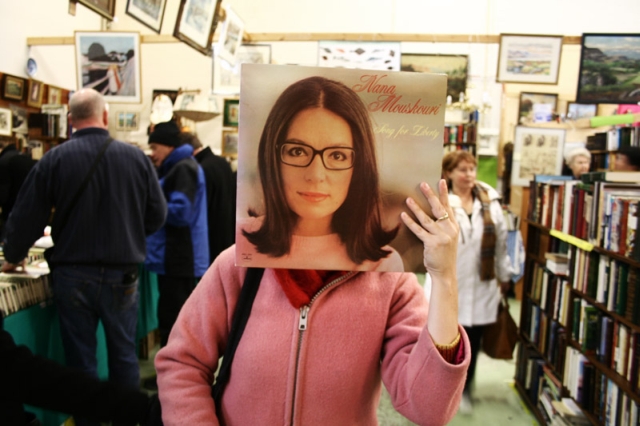 Bodó who took this Sleeveface pic had this to say:
Im digging In Reykjavik in the local flee market, since we r stucked of volcano bullsh*t ash, i found some amazing records, and also this Nana Mouskouri LP, i didnt wanna buy it cos I remembered I have a 7″, and it wasnt that fine, but we have to admit, Nana looks catchy, eyes poppin out .
So im like YES, i need that to be a Sleeveface tho, so i started to look around, who have that kind of jacket. about 12 seconds, i see a nice lady is walking that way, with the same color , so when she arrived to the place i was standing, i immediatly asked her> Shall i make a picture of U with the record covering your head? . And she is like : "Sure sure. Oh… look, " -telling her girlfreinds " this is Nana Mouskouri.. my granddad used to date with her." ..
And she wasnt joking. I couldnt belive it, so i was asking her and she said some details, and held the record to her pretty face,. She had a royal handshake.
After i said well this is nice, may i put this up to Sleeveface, and she said yes sure i know that page…:)

so here it is Carl, the stories come together and share laughs in Reykjavik, where everything is so easy and nice.
Credit: Bodó Márton