UPDATE 17th November 2008
The Sleeveface book is available in shops now! Go to the book page for latest info.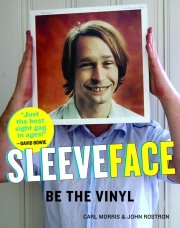 Below is an old post from September 2008.
---
Drumroll please…
Let's recap. It started with a Paul McCartney sleeve, then swiftly led to one or more persons in Cardiff, Wales having TOO MUCH fun ransacking their record shelves – from Rolling Stones to Nugent to Bowie to Cymande to Streisand. And people brandishing cameras yelling "up a bit, down a bit".Sleeveface has heralded several positive outcomes for humanity. Viz:
– How To Sleeveface – the vid by Ewan Jones-Morris – which you have surely seen by now…
– Some rip-roaring Sleeveface parties, of which more soon
– A worldwide shortage of Barry Manilow records
– Students and dogs covering their faces with record sleeves
– Sleeveface, the book
So what's in the book? Initially I envisaged a lengthy academic thesis about how it combines Marcel Duchamp's readymades and Magritte's treachery of images to form Warholian pop art. I'm kidding. The book publisher would rightly have stuck up a nose to that.
So it's a 192-page compilation of Sleeveface pictures – hilarious, debonair, artistic – and in full colour! (Color!)
It'll make a great present for that certain person in your life. Namely, the person who likes books featuring pictures of people holding record sleeves in front of their faces.
You can pre-order the book now. Here's some info:
CANADA
Amazon Canada
USA
Find an independent USA bookstore
Amazon USA
Barnes & Noble USA
REST OF WORLD
You can buy the book using the links above. We are also working on getting it released at shops in your country.
"This book WON'T help you lose weight, make friends or money, won't help you give up chocolate or change the way you think. It will, however, make you laugh, stare and wonder at the brilliance of Sleeveface!" Huw Stephens, BBC Radio 1
If you want to tip-off a book shop, the publisher is called Artisan Workman. Hooray!
For the curious, the Sleeveface photograph on the book cover was done by Gunnar Bangsmoen. It's a record by the band Bob Hund who are signed to Silence records. Original design of the sleeve is by Martin Kann. "Be the vinyl" is taken from a rather enthusiastic quote by Andy Bell of Erasure when he heard about Sleeveface.