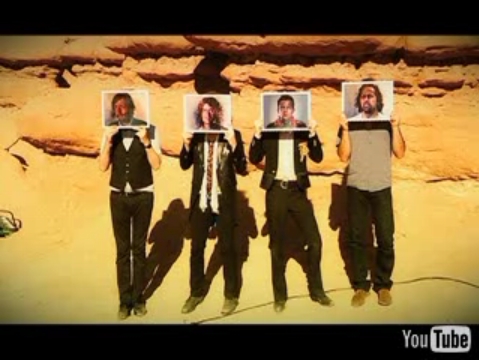 Here's a still taken from the latest video featuring aspiring group The Killers.
The song is called Human and as you can see, the Las Vegan four-piece love a bit of Sleevefacing.
This is no time for clowning around though. The piece is set in the sweltering heat of the desert and is a serious glance at the nature of humanity, with a lyric inspired by Hunter S. Thompson and footage of various animals for comparison.
Using four sleeves which appear to be custom made for each member of the band, the Sleeveface moment is fleeting but unmistakable. It happens at 1:55 and you can watch it here.
Bands take note. If you do Sleevefacing in your publicity material, it will probably get posted up here. Ergo, an extra publicity boost from Sleeveface – for The Killers.
This must surely gladden their hearts, given that at the time of writing the view count stands at a mere 1,034,788.
Trust me guys, the second million is always easier.